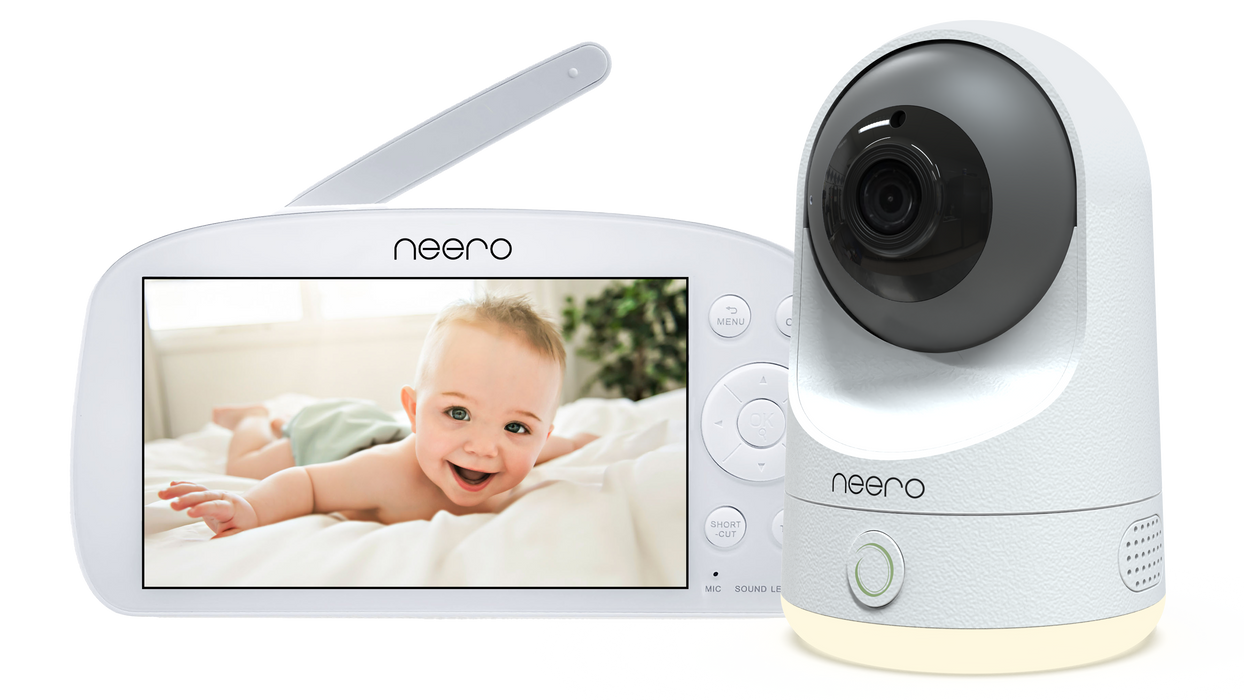 Neero Video Baby Monitor Non Wi-Fi, X-Large 5.5" HD Screen ( Local Warranty )
Save up to

0

%
Save %
Original price
$229.00
-
Original price
$269.00
Safeguarding privacy & security for complete peace of mind
We believe that every small step toward sustainability counts. That's why we're on a mission to change the world one baby product at a time. Our baby monitor camera is crafted from high- grade plastics synthesized from bio-based materials, minimizing our carbon footprint without compromising safety, quality, and functionality.
In addition, the Neero baby monitor offers a range of advanced features, including 100% digital privacy, 5.5" full view, 720p HD screen, multi-alarm mode, night mode support, ability to pan and tilt, digital zoom, support for up to 4 cameras, and long-range transmission to give parents ultimate peace of mind. 
Option of 1 Year or 2 Years Warranty Available
100% Digital Privacy
As a parent, you deserve complete control over who is able to access your baby's feed. Enjoy ultimate peace of mind knowing that no one can compromise your privacy with a seamless and secure 2.4GHz FHSS connection that protects your Neero baby monitor from interference,nhacking, and unauthorized access.

5.5" Full View
Our 5.5" full-view screen is designed to give you a bigger and clearer view of your baby while remaining compact enough to be carried around the house. With its high resolution of 1280 x 720 and real 25fps, you can rest assured knowing that you won't miss a moment.

720p HD screen
Neero's 720p HD screen offers high-definition viewing to ensure you're able to see every moment with complete clarity. The monitor is supported by an image sensor of 720P 1/4-inch CMOS and a SONIX RTOS low-power consumption full HD chipset, ensuring a crystal-clear display that's built to last.

Multi-Alarm Mode
Be there when your baby needs you with our multi-alarm mode, designed to keep parents informed through state-of-the-art sound and temperature detection that alerts you to unexpected changes in your baby's sleep environment. In addition, our screen alarm includes live alerts in case of video loss, feeding wake-up, and low battery.
Night Mode Supported
The night mode supported monitor has an IR range of 3 to 5 meters, allowing you to see your baby clearly, even in complete darkness. Our 940 nm invisible LEDs* are designed to emit minimal light to avoid disturbing your baby during sleep.
* >5 LUX (IR OFF) /<= 0 LUX (IR ON)

Able to Pan and Tilt
Neero's large field-of-view pan and tilt functionality is perfect for parents who want to keep a watchful eye over their little one. Our pan feature can cover 0 - 355° while our tilt feature can cover 0 - 90°, allowing you to comfortably see all corners of your baby's room.

Digital Zoom 4x
Capture those adorable close-up moments with the ability to zoom in digitally up to four times. Whether you want to check in on your baby as they rest or adore them from another room without disturbing their sleep, our digital zoom function allows you to get up close in complete silence.
Long Standby Time
Neero's long standby time allows you to check your baby's sleep throughout the night without having to worry about draining the monitor's battery life. The handheld monitor is supported by a powerful Li-polymer battery of 5000mAh that provides extended standby time for seamless and completely uninterrupted all-night (and all-day) monitoring.

Stored Lullabies
Neero offers five soothing lullabies carefully selected to help create a calm sleeping environment that gently puts your baby to sleep. Whether your baby is a fussy sleeper or simply needs a bit of extra help to sleep soundly, we help create a serene atmosphere that encourages healthy sleeping habits.

2-Way Talk
Our 2-way talk baby monitor is equipped with a 2-way voice intercom featuring a half-duplex, microphone, and speaker, allowing for seamless communication between you and your baby. In addition, the monitor features camera-supported sound sensitivity of high 65dB, medium 70dB, and low 80dB, enabling clear communication regardless of background noise levels.

Touch-Enabled Night Light
Neero features a touch-enabled 2800k warm light mode, which can be easily switched on and off with the simple touch of a button. The calming, gentle glow of our night light helps to promote a healthy sleep environment while providing a sense of comfort and security while your baby sleeps.

Support Up To 4 Cameras
Whether you want to monitor your baby's room, your living room, or their playroom, Neero provides an intelligent multi-camera baby monitoring solution that enables you to seamlessly cover more rooms throughout your home. Connect up to four baby monitor cameras and enjoy peace of mind knowing you'll never miss a moment.

Made From High-Quality, Sustainable Plastic
At Neero, we're unwavering in our commitment to creating a clean future for our children by
utilizing safe and sustainable materials made from post-consumer recycled (PCR) AcrylonitrileButadiene-Styrene Copolymer (ABS) plastics to craft our eco-friendly baby monitor. Invest in a greener world for your little one without compromising safety, quality, and functionality.

Long-Range Transmission
Neero is designed to easily cover your entire home with an unobstructed range of 900 feet and
wireless transmission of 2.4GHz FHSS 700 - 900 (210m - 270m) to provide reliable and secure
transmission with an antenna inside. Feel secure anywhere in the house, knowing you and your baby are connected.