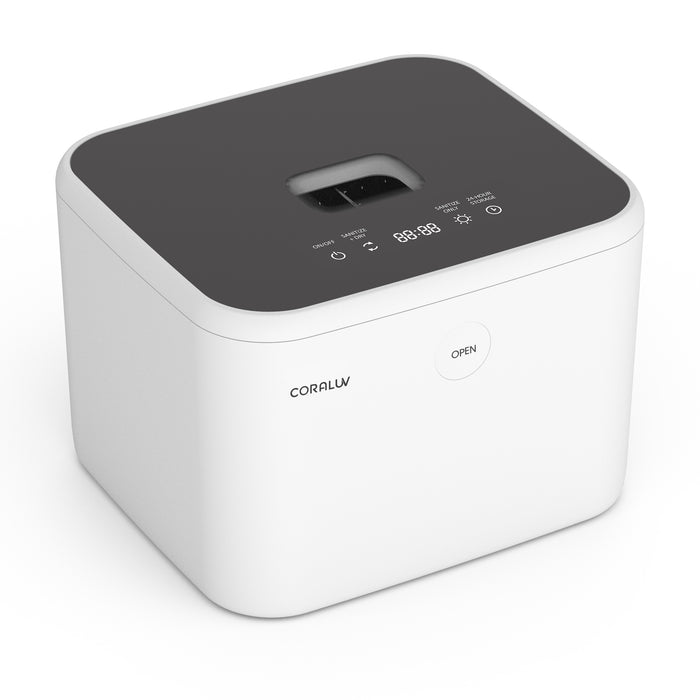 Coral UV 2 Sanitizer + Dryer
Sold out
Original price
$400.00
-
Original price
$400.00
The All-Purpose UV Sanitizer + Dryer : Coral UV 2
Our award winner UV sanitizer and dryer offers an effective, safe, and chemical-free sanitation for your everyday items in your living and working space.

Fast & Odor-Free Sanitizing
- Mercury-free and Ozone-free UV-C LED technology.
- Independently tested and proven to eliminate 99.9% of germs in 10 minutes.

Temperature-Controlled Dryer
- Temperature reaches up to 140F/60C, perfectly safe for your belongings.
- Dries washable items such as: baby bottles, CPAP masks, makeup brushes and more.

Commercial-Grade HEPA Filtration
Captures 99% of airborne contaminants, ensuring that only clean air enters the sanitizer. Features a child-proof filter lock.

Sanitize Anything, Anywhere
Sanitize your daily carry-ons such as: wallet, keys, phone, tablet, and more. On top of that, you can also sanitize AND dry washable items at the same time, such as: baby bottles, toys, beauty items, cpap masks, and much more.

Product Name: Coral UV 2 Sanitizer + Dryer
Product Model: Coral UV 2
Available Color: White
Product Weight: 3.6kg

Product dimensions:
Exterior: 28cm*32cm*23cm
Interior: 21.8cm*28.5cm*18cm
Package includes: 1 x Coral UV 2 Sanitizer + Dryer (3-Pin Plug) 1 x Basket 1 x User Manual 9 x Filter
Comes with 1-year local warranty and Singapore 3-Pin Plug with SAFETY Mark.|