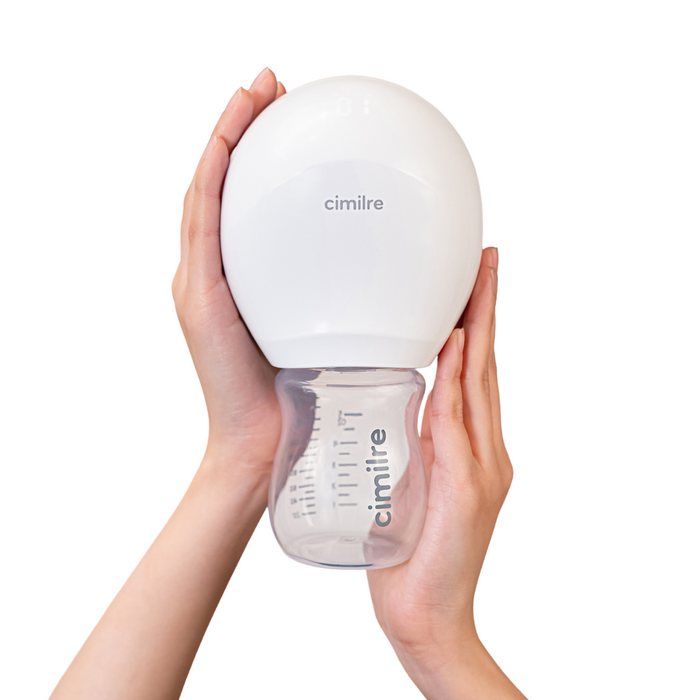 Cimilre T2 Plus Handsfree Smart Wearable Breast Pump
Save up to

31

%
Save

19

%
Original price
$246.00
-
Original price
$492.00
Handsfree with Smart App
Are you looking for the best hands free breast pump that will allow you to multitask or pump on-the-go? Worry no more! Our wireless Cimilre T2 Plus Handsfree Smart Wearable Breast Pump is made in Korea and has no cord, tubing, or hassle. With the lightweight, small size, and rechargeable battery make it easy for you to express whenever and wherever you want without having to compromise pumping performance.
Wearable & Portable
Wear it, turn on the pump, and continue with your daily activities. Our portable breast pump has an easy-grip design without any tube, making it lightweight and easy to use. Pumping breastmilk anywhere and at any time is very convenient with a wearable breast pump, so you can enjoy the free time of breastfeeding wherever you are. This wearable breast pump is designed to fit all mums on the go.
Smart Use with Smart Wireless
Best of all, our Cimilre T2 is a SMART pump that comes with a mobile app to control settings, record mummies' milk yield and set alarms for pumping session reminders! You can simply adjust the pressure and record the amount of milk with app, which help you to save your time and energy. 
No Cord No Fuss!
The anti-reverse flow design stops contamination of the breast milk. Our wearable electronic breast pump, the Cimilre T2, operates on a closed system that can help to prevent potential contaminants like viruses, bacteria and mold growth. Most importantly, expressing breastmilk into a feeding bottle will lessen the frustration caused by unintended spills of liquid gold.
Features:
Wearable / truly hands-free
Auto shut off after 30 minutes
Expresses breastmilk directly into the feeding bottle
Rechargeable battery lasts up to 2.5 hours on maximum settings
Chargeable via USB-C cable, so mummies can recharge the pump anytime and anywhere
What's included: *One Set for One Pump*
One (1) x T2 Plus Breast Pump
One (1) x USB-C Charging Cable
One (1) x Wide Neck Free-T Flange (28mm)

One (1) x Silicone Insert (27mm)
One (1) x Silicone Insert (24mm)
One (1) x Backflow Protector
One (1) x Bottle Cap
One (1) x Tube Adaptor
One (1) x Silicone Tubing
One (1) x Silicone Valve
One (1) x Bottle Teat
One (1) x Bottle Collar
One (1) x PP Milk Bottle (160ml)
One (1) x User Manual
*Please take note that, USB Adapter is not included
Specifications:
Pump:
Single
Noise Level:
Below 40dB
Suction Strength:

Min: Above 50mmHg 

±20

Max: 280mmHg 

±20

Cycle Speeds:

Massage Mode: Level 1 - Level 5

Expression Mode: Level 6 - Level 12

Night Light:
No
Battery:
1200mAh Li-Polymer
Battery Life:
Up to 2.5 hours (Upon full charge, and depending on the setting used.)
Charging Time:
Approx. 2 hours

Weight of Base Unit:
200g
Safe for Moms & Babies
BPA-free, and GMP Conformity, ISO 13485 and FDA 510(k) certified.
 *Comes with 2-years Singapore warranty and free rental pump during the warranty period*
*Subject to Cimilre's warranty terms & conditions.
Parents frequently bought together but now you can add these with 30% off! 
Cimilre Free-T Milk Storage Bag is a premium milk storage bag that allows you to immediately pump breast milk into the bag, decreasing the chance of contamination. Your baby can be fed directly from the bag by connecting the teat to the adaptor.
Cimilre 30 Disposable Milk Bags are hygienically pre-sealed and ready to use. It is durable, leak-proof, made of BPA Free materials which is perfect for storing in fridge or freezer. Equipped with a temperature sensor; the transparent logo turns pink when milk is warmed.