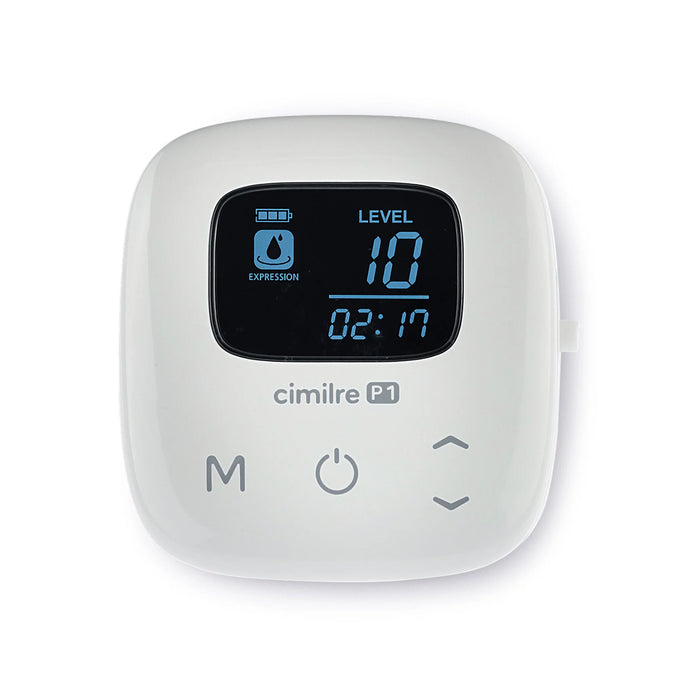 Cimilre P1 Portable Electric Pump
Save

15

%
Save

15

%
Original price
$233.00
-
Original price
$233.00
Build for Travel and Working Moms
Are you looking for the best breast pump that will make your breastfeeding journey easier? Let us take care of your worries! Compact and stylish, our Cimilre P1 double electric breast pump is made in Korea and has cutting-edge technology. The convenience of double electric breast pumps comes with improved mobility to fit seamlessly into your routine.
Powerful, Convenient & Easy To Use
With 
just 250g
, our Cimilre P1 is portable, light, and powerful to pump more milk wherever you go. It's ideal for moms on the go thanks to its slick minimalist appearance and simple touchpad controls. Moreover, it also comes with built-in 
rechargeable battery
 may be powered by a power bank, which is the best feature. (Battery has a 120-minute maximum runtime on a single full charge.)
#1 Efficient Breast Pumping with Customisable Modes 
You may adjust the suction levels in the Massage and Expression Modes with simple touch controls and a lighted LCD screen for the best comfort, and the milk flow from the powerful and quiet motor helps speed up the let-down process. To choose a mode that will maximise milk production, massage should come first, followed by pumping.
Say No to Backflow 

The anti-backflow design of this electric double breast pump is flawless, so moms don't need to worry that the milk might damage the machines. The primary function of the anti-backflow is to stop breast milk from backing up into the tubing and most importantly it can help to prevent potential contaminants like bacteria, viruses and mold growth. 
Noise Free Performance

Our Cimilre double breast pump electric is made with better craftsmanship. The baby won't be woken by the gentle milk sucking and low noise design with less than 45dB.
What's included:

One (1) x Cimilre P1 Breast Pump
One (1) x USB-C Charging Cable
Two (2) x Trumpet Flange (28mm)
Two (2) x Silicone Tubing(s)
Two (2) x Backflow Protector(s)
Two (2) x Silicone Valve(s)
Two (2) x Bottle Cover(s)
Two (2) x Silicone Teat(s)
Two (2) x Bottle Collar(s)
Two (2) x PP Milk Bottle(s)(160ml)
One (1) x User Manual
*Please take note that, USB Adapter is not included
Specifications:
Pump:
Double Pump
Rated Voltage & Frequency:
DC 5V, 2A

Power Consumption:
0.4A
Noise Level:
Below 45dB
Suction Strength:

Min. Above 50mmHg 

±20



Max. 280mmHg 

±20

Cycle Speeds:

Massage Mode: Level 1 - Level 5

Expression Mode: Level 1 - Level 10

Night Light:
No
Battery:
1800mAh Li-Polymer
Battery Life:
Up to 2 hours
Charging Time:
Approx. 4 hours
Weight of Base Unit:
250g
Safe for Moms & Babies
BPA-free, and GMP Conformity, ISO 13485 and FDA 510(k) certified.
*Comes with 2-years Singapore warranty and free rental pump during the warranty period
*Subject to Cimilre's warranty terms & conditions.
Parents frequently bought together but now you can add these with 30% off! 
Cimilre Free-T Milk Storage Bag is a premium milk storage bag that allows you to immediately pump breast milk into the bag, decreasing the chance of contamination. Your baby can be fed directly from the bag by connecting the teat to the adaptor.
Cimilre 30 Disposable Milk Bags are hygienically pre-sealed and ready to use. It is durable, leak-proof, and made of BPA Free materials which is perfect for storing in fridge or freezer. Equipped with a temperature sensor; the transparent logo turns pink when milk is warmed.
Cimilre Free-T Breast Shield Bottle Set is a newly innovated hands-free breast shield that fits comfortably under your bra to free up your hands while pumping. The integrally structured backflow protector makes cleaning easier with lesser parts to wash.