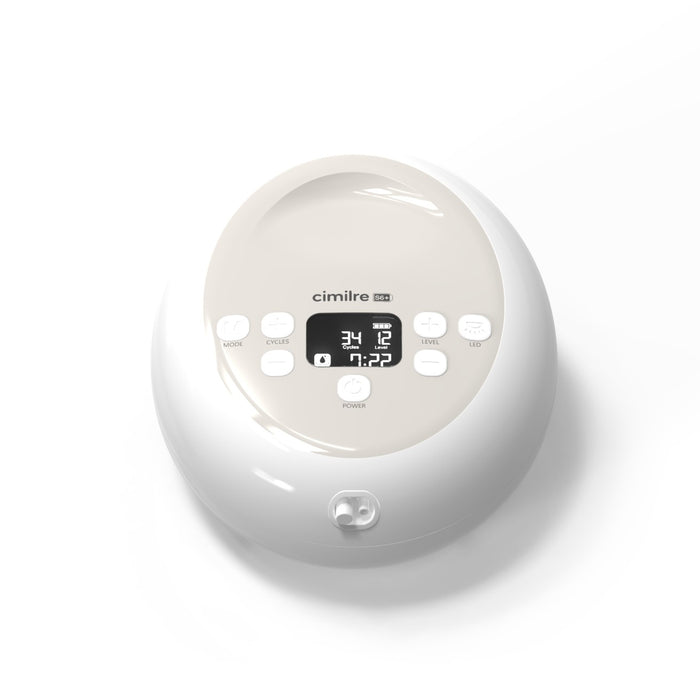 Cimilre S6 Plus Rechargeable Hospital-Grade Double Electric Breast Pump
Save

17

%
Save

17

%
Original price
$324.00
-
Original price
$324.00
Hospital Grade Pump
Looking to increase your milk supply for your baby? A hospital grade pump is the way to go, we have got you covered! Our Cimilre S6 Plus from Korea uses cutting-edge technology with multiple massage and pumping modes to suit all mothers. We know that breastfeeding a new-born can be exhausting. Cimilre S6 Plus is compact and comfortable, which makes it one of the leading double electric breast pump for all mothers.
Anytime, Anywhere!
A hospital-grade double electric breast pump is perfect for the first-time mothers who want to initiate their breast milk supply. It is also tailor-made for working mothers or on-the-go mothers with the built-in rechargeable battery that can last up to 4 hours. 
Freedom of Hands with Free-T Flange
Designed to use as a Single or Double breast pump, the Massage and Expression modes can also be customised to provide full control and maximum comfort. These modes simulate let-down by mimicking your baby's natural nursing pattern and expressing milk from the breast with high efficiency.
*Please take note that, doesn't come with Cimilre Bra. You will need to purchase Free-T Flange for freedom of hands. 
Exceptionally Quiet, Exceptionally Powerful
Our best selling double electric breast pump is offering one of the most powerful suctions in the collection. This pumps comes equipped with 10 levels of adjustable pumping and also comfortable painless breast pumping experience. 
Features:
Portable - With a rechargeable battery life of about 4 hours. Perfect for today's modern, busy mums.

ULTRA Quiet - Pump discreetly with a 38-decibel hum. So quiet it won't wake the baby.

Closed System - Integrally structured backflow protector keeps the motor and tubing clean, preventing contamination.

Pump How You Want - Single or double pumping, and 5 cycle and 12 level expression options to choose from.
Ease of Use - Simple setup and easy customization options so you can quickly find what works best for you and your baby.

Backlit LED Screen - Easy-to-read screen that won't strain eyes.

Night Light - Built-in LED night light with three different settings. Perfect for pumping while your baby is sleeping.

Auto Shut-Off - Turns off automatically after 30 minutes of use.

Memory Function - Start your pump session at a familiar and comfortable setting every time.

Lightweight - Built compact for easy mobility.
What's included:
One (1) x Cimilre S6 Plus Breast Pump
One (1) x Power Adapter (with SAFETY mark)
Two (2) x Trumpet Flange(s) (28mm)
Two (2) x Silicone Tubing(s) 
Two (2) x Backflow Protector(s)
Two (2) x Silicone Valve(s)
Two (2) x Bottle Cover(s)
Two (2) x Bottle Teat(s)
Two (2) x Bottle Collar(s)
Two (2) x PP Milk Bottle(s) (160ml)
One (1) x User Manual
*Comes with Singapore Plug
Specifications:
Pump:
Double Pump
Rated Voltage & Frequency:
DC 12V, 2A

Power Consumption:
0.8A
Noise Level:
Below 45dB

Suction Strength:

Min. Above 50mmhg 

±20



Max. 330mmHg 

±20

Cycle Speeds:

Massage Mode: 5 Cycles

Expression Mode: 5 Cycles

Night Light:
Yes
Battery:
2000mAh Li-Polymer
Battery Life:
Up to 4 hours
Charging Time:
Approx. 2 hours
Weight of Base Unit:
850g
Safe for Moms & Babies
BPA-free, and GMP Conformity, ISO 13485 and FDA 510(k) certified.
*Comes with 2-years Singapore warranty and free rental pump during the warranty period
*Subject to Cimilre's warranty terms & conditions.
Parents frequently bought together with the following add-ons, but now you can add these with 30% off! 
Cimilre Free-T Milk Storage Bag is a premium milk storage bag that allows you to immediately pump breast milk into the bag, decreasing the chance of contamination. Your baby can be fed directly from the bag by connecting the teat to the adaptor.
Cimilre 30 Disposable Milk Bags are hygienically pre-sealed and ready to use. It is durable, leak-proof, made of BPA Free materials which is perfect for storing in fridge or freezer. Equipped with a temperature sensor; the transparent logo turns pink when milk is warmed.
Cimilre Free-T Breast Shield Bottle Set is a newly innovated hands-free breast shield that fits comfortably under your bra to free up your hands while pumping. The integrally structured backflow protector makes cleaning easier with lesser parts to wash. 
Can't decide? Try out our Cimilre Trial Pump!